LCD
LCD screen controllers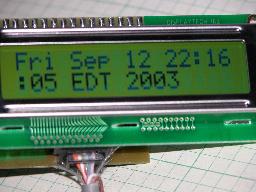 1-wire can write to an LCD screen. Useful for sensor reports, embedded systems, an security feedback.
Designs
There are three designs supported by OWFS.
Louis Swart

PIC based
Family code FF
Supported as device LCD
Includes memory and 4 GPIO pins
Includes backlight

Hobby Boards

DS2408 based
Apparently no longer produced
Family code 29

Supported as 29.xxxxxxxxxxxxx/LCD_H/

3 PIO pins


Maxim

DS2408 based
Family code 29
Schematic

http://www.maxim-ic.com/images/appnotes/3286/3286Fig01.pdf

Supported as

29.xxxxxxxxxxxxx/LCD_M/

no pins

AagElectronica

DS2408 based (optional DS2890 for contrast control)
Family code 29
Schematic 

Supported as

29.xxxxxxxxxxxxx/LCD_M/

no pins

AAGelectronica

LCD Controller (HD44780 based) 
Myke Predko's page
Peer Ouwehand's page
LCD screens
Each design uses HD44780-based Character-LCD
There is a lot of information available
Size limitted to 4x20 (4 lines, 20 characters)
Common sizes:
1x16
1x20
2x16
2x20
4x16
4x20
 Note that the LCD screen returns no data to the program, so the size cannot be deduced automatically.
See an
example
of display and code
---